Saker MkIII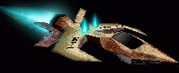 Hull: 5 t
Internal Capacity: 23 t
Main Thruster Acceleration: 21.1 g
Retro Thruster Acceleration: 10 g
Crew: 1
Gun Mountings: 1
Missile Pylons: 4
Fuel Scoop: Yes
Allegiance: Federation, Alliance
Cost: 43,000 Cr
Hyperspace Ranges: C1 - 10.71, C2 - 42.85
Rating:



Rollo's thoughts
This is the ship you start out with on Gateway. It's a quite good fighter and you can also trade a couple of ton's on every trip.
Equipment Recommendations
Get a class 2 military drive. It will help you win the Wiccan Ware race.
Dump the two already equipped homing missiles. You will need the space for trading and most pirates have ECM anyway.