Skeet Cruiser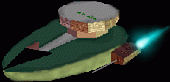 Hull: 135 t
Internal Capacity: 427 t
Main Thruster Acceleration: 9 g
Retro Thruster Acceleration: 4 g
Crew: 6
Gun Mountings: 4
Missile Pylons: 6
Fuel Scoop: Yes
Allegiance: Federation, Alliance
Cost: 698,000 Cr
Hyperspace Ranges: C3 - 4.00, C4 - 8.54, C5 - 13.34, C6 - 19.21, C7 - 26.15
Rating:



Rollo's Thoughts
This is one weird creation. The Skeet was made as an attempt to make the trading business a bit more sophisticated. Sadly though most traders think sophistication is some kind of drink, and the new ground breaking design did not sell very well. The Skeet is relatively fast but it really needs one or to more gun mountings to be safe enough to travel anywhere outside the core systems.